A visit to Air Ambulance NI
by Noelle Wilson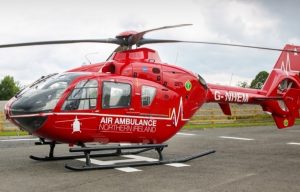 On Saturday 4th February 2019, John Williams, Deacon of St Coleman's church, accompanied by one member from each of the 'Dunmurry Churches Together,' went to visit the Air Ambulance NI base. Along with many other groups, we had been invited to present our cheque which was the result of the Offering at the Advent Service in November 2018. After some coffee and biscuits, an interesting talk was given by the head of the fundraising team from whom we found out that:
– £5,500 is needed each day to sustain the service.
– £2,171 for each helmet
– £547 for each flight suit
– £102 for each pair of boots.
In total, the service needs 2 Million pounds a year and it is a registered charity. We were then taken to see the helicopter. The pilot and the paramedic gave a demonstration of coping with an emergency. It was surprising to see just how small the space was in which they had to work.
After its first year in operation it appears that Saturday is the busiest day with 3.00pm, the busiest hour. Road traffic accidents make up 50% of all calls. The fundraising team drew to our attention that they are an official charity of this years Belfast City Marathon on Sunday 5th May, at which you could help to raise funds by running in the Marathon, the Team Relay or the Fun Run.
The Air Ambulance can only continue to operate with public support and is a great blessing for those seriously injured in the most distant parts of Northern Ireland e.g. It takes only 20 minutes to reach the North Coast from its base.
For more information on the Air Ambulance NI, visit www.airambulanceni.org