Ruth Hanna Dickson (1890 -1944)
By Margaret Graham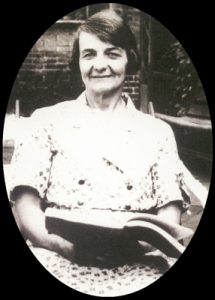 To commemorate 200 years since the birth of Florence Nightingale, the World Health Organisation  (WHO) designated 2020 as the year of the nurse and midwife. However, due to the Coronavirus pandemic numerous commemorative events planned at home and abroad were cancelled.
Here in Northern Ireland I was asked as chair of the local Royal College of Nursing history of nursing network to write two storyboards for an exhibition to be held in the Ulster Museum, one on nurses experiences of working through the Troubles and the other on nurses who had served during WW1 and WW2. Sadly the exhibition was closed because of coronavirus restrictions and although it was in place when the museum opened in June, we never got the opportunity to officially open it.
Thousands of Nurses from across the whole of Ireland volunteered to serve in both world wars. Many died either from disease, battle injury, or direct attack on hospital ship, trains and troop ships. I thought as we remember all those who serve and served in defence of our freedom, that in this year of the nurse and midwife I recount this story of a nurse from Co Tyrone who served in both world wars.
Ruth Hanna DICKSON, a farmer's daughter, was born in May 1890 at Eglish near Dungannon. In 1916, after completing nurse training at the Royal Victoria Hospital, Belfast, she volunteered as a military nurse with the Queen Alexandra Imperial Military Nursing Reserve (QAIMNSR). She served in France towards the end of The Great War and afterwards cared for prisoners of war in Wales. In the 1920s, Ruth was a Sister in the Lisburn Infirmary, when she reconsidered her desire to do missionary work. An opportunity arose to go to China and after training in Edinburgh, and beginning to learn Chinese, she left for China. Ruth took on the role of Matron at Newchang Hospital in September 1924.
During her years as a missionary in China, she played a considerable part in the establishment of an educated and well-trained nursing profession whose fully-qualified graduate nurses, having gone through a course comparable to that of nurses in Ireland, could take their place without much difficulty in a hospital in any country.
As World War 2 intensified Ruth and other missionaries were advised to leave China and try to head home. Ruth left in September 1941 and reached Singapore where she re-joined the QAIMNSR. Singapore suffered a deadly attack by the Japanese in February 1942 leading to mass evacuation. Ruth was one of the last group of nurses to evacuate and boarded the SS Kuala along with several hundred evacuees, many of whom were women and children. The ship was subjected to aerial attack by the Japanese caught fire and quickly sank. Many died during this bombardment ,however, Ruth along with other survivors was washed up on an island but all were eventually captured by the Japanese and moved to a prisoner of war camp.
As prisoners, they were moved around several camps before arriving in Sumatra. As a prisoner she worked in a camp hospital and in the fields. The experiences of the Far East POWs has been well documented. In November 1944, the Japanese forces moved the prisoners to Banka Island. Malaria was rife and Ruth along with around 90% of the prisoners contracted the disease. Ruth died from malaria and malnutrition on 24th December 1944 aged 54 years old. A Scottish colleague cared for her and conducted a small burial service on Christmas Day. Another Irish nurse formed a wooden cross to mark her grave. Ruth was one of 6 RVH trained nurses to die during WW2. She is buried in the Jakarta War Cemetery. Her name is inscribed on the roll of honour in Westminster Abbey.
The Irish nurse who placed a cross on Ruth's grave was possibly Molly Cooper from Carrickmacross. Molly trained in the Adelaide hospital and joined the QAIMNSR in 1940. She embarked for the Far East in September 1941 and like Ruth was evacuated from Singapore only to be captured by the Japanese and taken to the camp on Banka Island.
Molly died from beri-beri and malaria on June 25th, 1945, (aged 27) and is buried in the same war cemetery in Jakarta as Ruth.