Building of Rev. John McCleery Memorial Hall
by Robert Douglas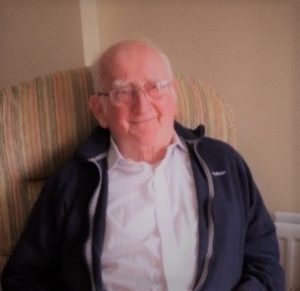 I joined First Dunmurry NSPCI in the 1950's. Over this time, I was a committee member and an active member of the congregation until my health deteriorated, preventing me to attend weekly services. I was honoured when asked to detail my memories of when The McCleery Hall was built, a project that I managed with support of my father-in-law Joe McLaughlin.
Following the sudden death of the much loved and respected Rev. John McCleery, a memorial fund was established to build a Church Hall in his honour. I was the only one mad enough to manage the project…especially as I had suggested the hall should be built by the labour of congregation!
The men of the congregation, including Tommy McCullough, Rev Mac, myself and many more who are no longer with us, took shifts to build and carry out general works around their own jobs. Working long into the evenings, the women of the congregation helped to keep up energy levels up by providing endless sandwiches and cups of tea.
Contractors that were employed included Farrans (cement and waterproofing graveside wall) Michael McKeever (brick work) MD Willis (plumbing and heating) and a company based in Glenavy provided and installed the windows. Members of the congregation also contributed including the late John Harson (electrical work) and late George Robinson (painter and decorator). Although not a member of the congregation, but a keen Bowls player Brendan Fox did nearly all of the plumbing work free of charge. McLaughlin and Harvey provided the floor. This involved laying a
cement base, with wooden runners laid horizontally to carry the floor. Material was then inserted in between runners to prevent rot setting in. Rubber skirting was placed around the pillars of the hall, to prevent any damage from Bowls games. The full project took approx. 2 years to complete and cost just under £24,000.
I am proud to have played a part in the building of The McCleery Hall, and may it be used by the church and local organisations for many years to come.
Editors note: Robert 's recollections of the events of 1971 to 1973 are most interesting to read but as is Robert's nature, he really understated the enormous amount of work that was actually undertaken by him in particular, and almost every man, woman and child in the congregation and beyond. Building the hall ourselves using "direct labour" was almost unheard of then and yet we did it!
It would be wonderful to hear some more tales from those who took part in those days. So, if you were a tea-maker, or drove the digger, a sweeper-upper or a joiner, if you wielded a paint brush or mopped the floors, mixed the cement or made the curtains, we would love to hear from you.