Worship
Our ethos is 'Faith guided by reason and conscience'
Join us for our weekly Sunday services at First Dunmurry NS Presbyterian Church, beginning at 11.30am.
Non Subscribing means that we do not insist on conformity of opinion about matters of faith. Literally, we do not 'subscribe', or sign up, to any creed or confession, specifically, we do not require subscription to the Westminster Confession of Faith.  No creedal statement is made during our services. This does not mean that members of the denomination are not permitted to sign up to confessions of faith or to adhere to the Apostles' or any other Creed. It simply means that we do not insist on this. We believe that everyone has the right to interpret the scriptures and to exercise personal judgement.
We believe that the Lord Jesus Christ is the head of the Church.
Sunday School
& Dunmurry Youth Group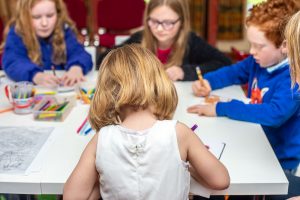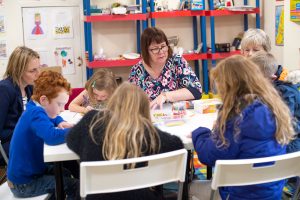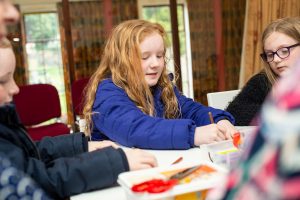 Sunday School is open to all children aged 0-11 years  and Dunmurry Youth Group is for all young people aged 12+ years. Sunday School and Dunmurry Youth Group runs from 11.45am – 12.30pm, each week from September through to June. The children and young people join in the Service for the first 15-20 minutes which includes a Children's Address from the Minister and a Children's hymn before heading over to the McCleery Hall.
In Sunday School and Dunmurry Youth Group we follow the Curriculum set by the NSPCI Sunday School and Youth Committee. In Sunday School, the children listen to bible stories, and do activities based on the story of the week including craft, drawing, quizzes, puzzles and singing. In the Youth Group the young people work on a variety of activities, including group projects working on a number of charities which the Group members picked themselves such as  The World Wildlife Fund, Born Free Foundation and The Snow Leopard Foundation.
Our children and young people participate in the two denominational events held each year, the Sunday School Games in March and the Exhibition of Work in June. We also take part in many of the special Services held in Dunmurry including, amongst others, Harvest, Christmas, Mother's Day and Easter. We finish our term with our Children and Young People Day Service which is usually held on the second Sunday in June.
Protection Policies
First Dunmurry Non Sunscribing Presbyterian Church comply with The Non Subscribing Presbyterian Church of Ireland Child and Vulnerable Adult Protection Guidelines. To view a copy of the guidelines and procedures, please visit our publications section.
If you have a concern, you are advised to contact the PSNI in an emergancy. Then continue to follow the referral procedure of either reporting to directly to Adele Johnston (Leader in Charge) or Emma McCrudden (Designated Officer).